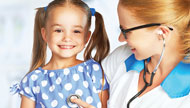 This training package is addressed to students and medical practitioners in paediatrics on how to autonomously learn, develop and consolidate their soft skills for improving the quality of paediatric services.
Communicating in a Multicultural Environment
Soft-skills for health care staff in Paediatrics
Communication in a multicultural environment presents many challenges and pitfalls for practitioners of pediatric care, especially those at the beginning of their professional career. It is obvious that medical caretaking operates in a world that is increasingly marked by intercultural and multicultural diversity. Mass migration and the displacement of ethnic groups and minorities are the driving forces of today's multicultural world. Therefore, medical practitioners - including students of medicine - see themselves confronted with an increasingly diverse patient population. At the same time, practitioners of pediatrics face the challenge of communicating with patients whose abilities to convey feelings of well-being, discomfort, pain or distress are not fully developed. These two factors combined can exacerbate the communicative challenge and can lead to misunderstandings, frustration and anger. In the worst case, they influence the practitioner's otherwise sound judgment of clinical competence and lead to misdiagnosis. It is therefore imperative that all medical practitioners, but especially pediatricians and students of pediatrics, learn how to employ communicative strategies in order to prevent this from happening. While it is recommended to use an interpreter when communicating with patients from a cultural background different of one's own, discernment is needed, and standards need to be observed. If the interpreter is not a professional, licensed expert (e.g. a family member such as a parent or sibling), it is especially vital to discern the interpreter's level of expertise through passive observation. When in doubt, it is recommended to delay communication until a professionally educated expert is present. While this could cause initial discomfort, even embarrassment at times, it is important to remember that the patient's safety and well-being is the goal of medical care. If an interpreter is not needed or present, pediatricians and students of pediatrics can employ several soft-skills in order to strengthen and clarify communication with the goal of eliminating misunderstandings and building trust in the doctor-patient-relationship. Since children are especially vulnerable, the following trust-building techniques should be used always.
Methodological Advise
In this module, there are several practical activities refering to the most important soft skills in relation to communication in a multicultural environment. The exercises reflect real life cases and in this sense they may require more than one soft skill practice. Methodologically there is a concentration on role-plays and group discussions.
Role playing is an effective learning structure that allows students to immediately apply content as they are put in the role of a decision maker or patient. This technique is an excellent tool for engaging students and allowing them to interact with their peers as they try to complete the task assigned to them in their specific role. Role plays specifically allow for exploration of high-risk scenarios in a safe environment. Learners are encouraged to experiment with different responses to input and can explore and reflect their own responses to input accordingly. This will ultimately serve learners when encounterning similar scenarios in real life situations.
Furthermore, learners can reflect their role in the doctor-patient-communication through subsequent group discussions. Those discussion serve as a basis to reflect strengths, weaknesses and possible modifications needed in future interactions. It is important to note that in order to facilitate learning and growth, discussions must foster an atmosphere in which the Affective Filter is low (Krashen, 1988).
In summary, role plays are an ideal tool to practice and learn empathietic responses and active listening, as learners can put themselves in the shoes of others and reflect on how a high-stress scenario could potentially affect parents' and patients' mental and emotional well-being.