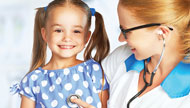 This training package is addressed to students and medical practitioners in paediatrics on how to autonomously learn, develop and consolidate their soft skills for improving the quality of paediatric services.
Communicating in a Multicultural Environment

2.5 Techniques of Reassurance
Reassurance means the action of removing someone's doubts or fears.

It certainly is very important for the patients to be reassured from their doctors, not only by showing the test results, but also by explaining the whole process step by step. This is a soft skill that benefits from the skills mentioned and discussed above. Only a physician who is open to the feelings, fears and reservations of his patients, listens actively with the goal to show empathy and to understand the background and reason for the patient's fears will be able to reassure that patient accordingly of the success and reliability of the chosen treatment. It is essentially the ultimate method for building trust between a physician and a patient. It communicates to the patient that the physician cares about the patient as an individual and wants the best for the patient. Simple questions such as "Are you worried?" can serve as a powerful tool for doctors how to discern if there is need to reassure patients. While choosing the right words is important, studies have shown that nonverbal communication is a major indicator of physician's interest in his or her patient. It can convey a sense of warmth, empathy, caring, reassurance and support on the one hand, and boredom, anger, irritation and disinterest on the other (Berman, A; Chutka, D., 2016). Since human communication consists mainly of body language and paralinguistic clues, tending physicians need to learn how to express themselves nonverbally in a way that reassures their patients of trust and care. Since positive nonverbal communication differs from culture to culture, no overall advice on how to convey positive reassurance through body language is given here. In general, however, it can be said that people from all cultures respond to a warm, friendly smile.

It is also necessary to mention that diverse patients require different strategies for reassurance. Therefore, doctors requite to change their communication style from one patient to another. While some patients might be reassured by seeing the test results, others require more explanation, different methods and more effort.
Practical Applications
Online Resources