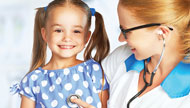 This training package is addressed to students and medical practitioners in paediatrics on how to autonomously learn, develop and consolidate their soft skills for improving the quality of paediatric services.
Communicating in a Multicultural Environment

2.2 Cultural Sensitivity
Cultural sensitivity is being aware that cultural differences and similarities between people exist without assigning them value – positive or negative, better or worse, right or wrong. It is important to recognize that this is a very broad concept, as described below.

Being culturally sensitive means that you are aware that people are not all the same and that you recognize that your culture is no better than the other cultures. This can be a very hard thing to do. Intrinsically, we all have a tendency to judge other cultures and to raise our own culture above others. This tendency needs to be recognized when it surfaces and dealt with accordingly. In general, it can be said that the more different the patient's culture is from our own, the more challenging the interaction will be. Communication styles are greatly influenced by cultural background and will thus vary greatly when two cultures come together in an effort to solve a problem (such as in the case of helping a sick child).

Often, the physician may find him- or herself in a situation where he or she tries his/her best to be sensitive to the cultural expressions and background of the current patient. He or she may find, however, that the patient is not quite as willing to be sensitive to the cultural background and practices of the tending physician. Especially cultures that stress social and family values over individuality can present a challenge in this regard. Parents may insist on certain ways of finding the best solution to a medical problem that run counter to the normal practice of the tending physician. Family members may get involved; a multitude of opinions may be expressed. This in itself calls for cultural sensitivity on the part of the physician.

To provide culturally sensitive patient-centered care, physicians should treat each patient as an individual, recognizing and respecting his or her beliefs, values and care seeking behaviors.
Practical Applications
Online Resources