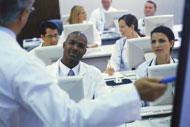 This training package is addressed to lecturers and trainers in the field of paediatrics on how to assist paediatric undergraduate and resident students in developing and consolidating their soft skills for improving the quality of paediatric services.
Communicating in a multilingual environment

2.3 Case Study: end-of-life care
In some cultures, it is believed that once words have been uttered out loud, they become a reality. How do the principles of knowledge, understanding and appreciation affect the care of a pediatric physician dealing with people of such culture?

Through educational investment, the physician would first learn about the culture's above mentioned belief. Knowledge about this belief would help the pediatrician understand that parents' reluctance to discuss end-of-life care for their child is not based on opposition to medical treatment or care. Appreciation of the parents' cultural views would help the pediatrician to thoughtfully and respectfully consider the parents' concerns and negotiate the situation with the appropriate measure of tact.
Online Resources