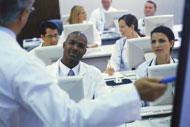 This training package is addressed to lecturers and trainers in the field of paediatrics on how to assist paediatric undergraduate and resident students in developing and consolidating their soft skills for improving the quality of paediatric services.
Communicating with Parents

2.5. Practical activities
It is very difficult to learn soft skills from literature or on theoretical basis. The best way to develop soft skills is to practise them in real life environment. The following practical activities advise different complex situations in which the above listed soft skills as careful listening, expressive communication, emotionally reach behaviour can be put into practice.
Online Resources