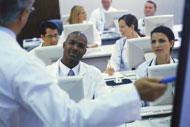 This training package is addressed to lecturers and trainers in the field of paediatrics on how to assist paediatric undergraduate and resident students in developing and consolidating their soft skills for improving the quality of paediatric services.
Communicating with Parents

2.4. Teaching Soft Skills
2.4.5. Problem-based learning
PBL is a learning that results from the process of working towards the understanding or resolution of a problem. (Barrows and Tamblyn, 1980). It is student-centred, problem based, problem-solving, self-directed, reiterative, collaborative, self reflecting and authentic. Problem-based learning has two fundamental postulates-the learning through problem-solving is much more effective for creating a body of knowledge usable in the future, and that physician skills most important for patients are problem-solving skills, rather than memory skills.

Problem based learning enhances the importance of critical thinking and problem solving.
Online Resources