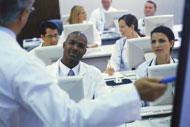 This training package is addressed to lecturers and trainers in the field of paediatrics on how to assist paediatric undergraduate and resident students in developing and consolidating their soft skills for improving the quality of paediatric services.
Communicating with Parents

2.6. Case Studies
The case studies intend to emulate relatively complex situation in which a given learning objective is demonstrated. The case studies on one hand complex, on the other hand reflect only a selected aspects of learning objectives. Students are expected coping with rather the specifics of the cases however during this exercise the indirect concepts also should be addressed.
Online Resources