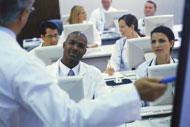 This training package is addressed to lecturers and trainers in the field of paediatrics on how to assist paediatric undergraduate and resident students in developing and consolidating their soft skills for improving the quality of paediatric services.
Communicating with Parents

2.4. Teaching Soft Skills
2.4.4. Team-based learning
Team based learning (TBL) is a student-centered but instructor-led method of learning. The method employs strategies to incorporate the effectiveness of small group learning methods like Problem based learning (PBL) into large-group lecture oriented sessions. (Yeswanth, Ganesh 2013).

The 4 essential principles of Team-based learning (1) properly form and maintain groups; (2) hold students accountable for individual and team work; (3) provide frequent and timely feedback; and (4) design team assignments to promote learning and team development

This method encourages students to become active players, rather than be passive recipients of information. TBL exist of four elements: teams, accountability, feedback, and assignment design.
Online Resources