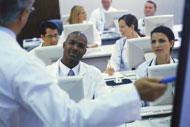 This training package is addressed to lecturers and trainers in the field of paediatrics on how to assist paediatric undergraduate and resident students in developing and consolidating their soft skills for improving the quality of paediatric services.
Communicating with Parents

2.4. Teaching Soft Skills
2.4.3. Role-plays
Role-play is widely used method for learning communication in medical education. The use of role-play in small groups is an important method to help learners cultivate the skills required to engage in nuanced, often difficult conversations with seriously ill patients. Though role-play decision-making and interpersonal communication skills can be evaluated.
Online Resources