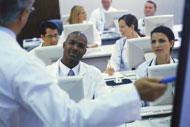 This training package is addressed to lecturers and trainers in the field of paediatrics on how to assist paediatric undergraduate and resident students in developing and consolidating their soft skills for improving the quality of paediatric services.
Communicating with Parents

2.4. Teaching Soft Skills
2.4.2. Case-based learning
In CBL doctors/students are motivated to learn their own, hereby they learn the habit of self-learning and integrating knowledge from different subjects to solve problems. It is a small-group method, learning issues are preidentified. CBL method offers more opportunities for problem-solving skills within a session. Case based learning is a more suitable way of learning compared with problem-based learning.
Online Resources