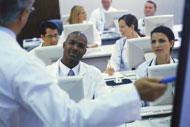 This training package is addressed to lecturers and trainers in the field of paediatrics on how to assist paediatric undergraduate and resident students in developing and consolidating their soft skills for improving the quality of paediatric services.
Communicating with Parents

2.4. Teaching Soft Skills
2.4.1 Standardized patients
Standardized patients is a method, when someone playing the role of a patient using a clinical scenario to aid doctors/students in applying skills and knowledge. Their purpose is to teach and evaluate patient assessment and interviewing skills. Standardized patients is very useful because it's a real life simulation. It has challenges, because it is based on improvisation and the feedback can be variable.

SPs is one of the best evolving methodologies in medical education.
Online Resources