5.4 – Cooperation and Collaboration (Empowerment, Reassurance, Encouragement, Responsibility for Problem-Solving)
Communicative and collaborative skills are primary qualities for every medical professional. In Pediatrics, these skills take great value since pediatricians have been able to communicate effectively with a wide variety of professionals (doctors, surgeons, nurses, lab technicians, nutritionists, speech therapists, psychologists) who participate in patient management.
To efficently communicate with other professionals, pediatric staff need to be able to use a variety of strategies to ensure that professional practice meets health and social patient needs and facilitates a positive working relationship.
To encourage and increase positive communication between Pediatrics health care staff allows to build an effective working group, minimizing poor communication and avoiding conflict. It can be achieved through the development of an open, honest, assertive and supportive communication.
In case of conflict, it could be minimized sharing skills and knowledge, understanding colleagues point of views and recogniting reciprocal efforts and mutual fulfillment. As Faragher and MacNaughton (1998) state: "... the staff is able to communicate well within it and develop good working relationships ... They are able to share their ideas, resolve differences of opinion and conflicts and to elaborate strategies to approach their work ".
A very effective communication tool is Assertivity. Communicate assertively means assess how to clearly express own idea to ourselves and to others, without offending them. Five componets are presented in the phrase (see Table 7): 1) it is important to construct statements expressed in the first person, 2) describe a thought, 3) describe a feeling, 4) refer the statement to a circumscribed fact, 5) close the sentence with a question. A question allows people to be confortable in conversation and create condition to openess and clearity. Assertiveness thus opens up a collaborative relational dimension centered on mutual empowerment and evolved through attention to the narrow focus of the problem and to the demand for a constructive resolution.
Collaboration between pediatricians, nurses and other health care staff increases the awareness of team members about the type of knowledge and skills of others, leading to continuous improvement in decision making.
As could be seen from numerous studies, good communication and collaborative skills are able to promote a noticeable improvement of the service offered. Littlechild & Smith (2013) also state that collaboration leads to greater efficiency, better skills management, greater levels of responsiveness, innovation and creativity and a more user-centered pediatric practice.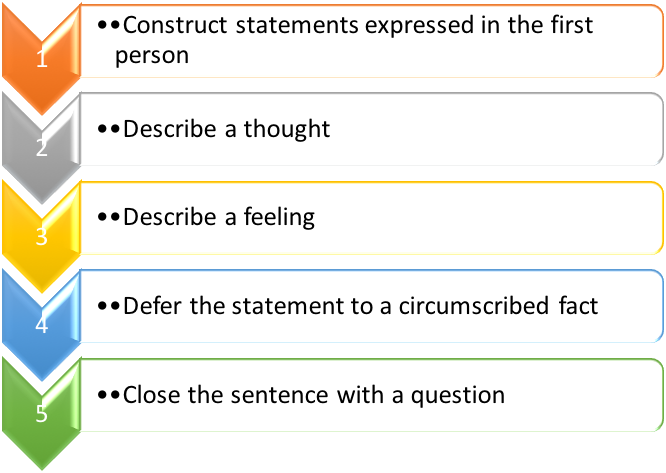 Table 7. Five components of Assertivity