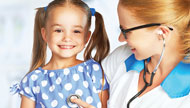 This training package is addressed to students and medical practitioners in paediatrics on how to autonomously learn, develop and consolidate their soft skills for improving the quality of paediatric services.
Communicating with Parents

2.5 Giving Bad News to Parents
Breaking bad news alongside the challenge of handling difficult constitute the two main areas doctors experience the most difficulty with. When hearing bad news, parents value a physician who clearly demonstrates a caring attitude and who allows them to talk and to express their emotions. Parents are more attentive to the affective relationship with the doctor than the ability of the doctor to fix the problem. Open the conversation asking parents what do they know about what is happening to their child. Most likely parents will become upset hearing bad news. Waiting until their attention turns back to the doctor and acknowledging their grief and fear can be a clear sign that a paediatrician is supportive, non-judgmental considers the parents' emotional state. Doctors can use empathetic sentences like "I can see you were not expecting this." (Silence). Once parents told their ideas to the paediatrician, misperceptions should be corrected. Asking whether they know someone else with this diagnosis or situation and inquiring about their associated experience can also be helpful. Paediatricians can tell parents, for example: "You seem quite upset; I would be, too. (Silence.) Do you know anyone who has had this illness? (Silence.) How did things go for them?". Gradually sharing additional illness and treatment information might be greatly appreciated by parents. Paediatricians can give complete information over several visits if needed. Written materials and providing a means to contact the physician when additional questions arise give parents the feeling that they are supported by the healthcare team. Parents might want to have the opportunity of touching or holding the child, particularly new born infants or children from whom they have been separated during a transport. Ensuring physical contact whenever possible can reduce the child's fear and parents' traumatic experience of the events.
Practical Applications
Online Resources
How Should Providers Deliver Bad News? The video is based on the work of Dr. Neil S. Prose and filmed with actors playing the role of the parents of a young child.