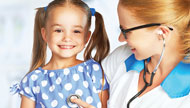 This training package is addressed to students and medical practitioners in paediatrics on how to autonomously learn, develop and consolidate their soft skills for improving the quality of paediatric services.
Communicating with Parents

2.3 Asking/Answering Questions, Repetition
To make sure that the parent will understand the information provided first the paediatrician should check what the parents already know about their child's illness. With knowledgeable parents, the discussion can begin at a higher level although it's important to check whether their knowledge or understanding is correct. A lot of parents visit sources without review or control, like websites or health magazines. Parents' comprehension abilities might be influenced by language problems as well as emotional states. Pacing the information, providing it in a logical sequence or breaking it into two or more sessions can result in improved understanding and better information retention. Between two session parents have time to absorb the information and cope with the new situation. Paediatricians should be prepared to patiently repeat information and answer questions. It's also important to pay attention to how much information the parents want to know: some of them are interested in every little detail of the child's condition while others simply want a prescription and an assurance that all will be well. After answering parents' questions, a paediatrician can use a teach-back method to find out whether they understood the instructions. Instead of asking if the parents understand what has been told to them a paediatrician can ask questions about how they will implement the treatment plan, what they plan to tell their spouse or the grandparents about the child's care and treatment or about the functioning of the child's medical device.
Practical Applications
AnamnesisThe anamnesis is a must in child care, although not all the parents are able to distinguish between relevant and irrelevant facts, sensitive information are not managed properly as well.
Drug complianceMedication needs to follow strict scenario. Parents do not always understand the importance of complying with drug prescriptions and the likelihood of side effects.
Communication Skills Watch and separate different style of communication regarding factual information, education and explanation, reducing uncertainty, tranquillization.
Online Resources
What Is "Ask, Tell, Ask"? Health care providers give health information to patients all the time. But how often do they ask patients what information they want to hear? In this video, Connie Davis, Co-Director at Centre for Collaboration, Motivation, and Innovation, explains how a simple technique known as "Ask, Tell, Ask" can help providers tailor their information or advice to what patients want to hear.