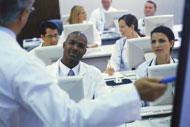 This training package is addressed to lecturers and trainers in the field of paediatrics on how to assist paediatric undergraduate and resident students in developing and consolidating their soft skills for improving the quality of paediatric services.
Communicating with Other Health Care Staff in Pediatrics

5.1 Literature Survey on Services during the Hospitalisation
5.1.2. Handoffs during Hospitalization
Technicians and health care staff transfer information in many different situations, for example when they change shifts. Communication between health care team members is essential for optimal family centered health care. Thus, interventions are needed that focus on communication and support for health care teams working with pediatric complex care patients and their families.

It is important for health care providers to recognize the importance of communication between the staff member and the patient/family, as well as between health care team members about a particular patient. In addition, since complex care patients often have multiple consulting services involved in their care, support is needed to facilitate communication between health care providers and teams who work together to address both the physical and psychosocial needs of pediatric complex care patients.
Online Resources
Handoffs: implication for nursesChapter 34 of the book presents an overview of handoffs, a summary of selected literature, gaps in the knowledge, and suggestions for quality improvement initiatives and recommendations for future research.
Safeguarding children and young people: roles and competences for health care staffIntercollegiate document emphatizing the importance of maximising flexible learning opportunities to acquire and maintain knowledge and skills, drawing upon lessons from research, case studies, critical incident reviews and analysis, and serious case reviews.