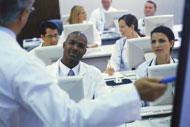 This training package is addressed to lecturers and trainers in the field of paediatrics on how to assist paediatric undergraduate and resident students in developing and consolidating their soft skills for improving the quality of paediatric services.
Communicating with Other Health Care Staff in Pediatrics

5.1 Literature Survey on Services during the Hospitalisation
5.1.1. Interfaces: Health Care Staff, Technicians
In paediatric units, different kinds of health care staff interact. The staff involved in medical and non-medical services during the hospitalisation (drugs - pharmaceutical services, food and stay - hotel) has to communicate with the health care staff. Staff groups working with children and young people include, for example, lay members, receptionists, administrative, caterers, domestics, transport, porters, community pharmacist counter staff and maintenance staff, optometrists, dentists and pharmacists, as well as volunteers across health care settings and service provision.

Critically ill patients and their families can feel overwhelmed with the stress of the environment in addition to the acute illness. This stress affects the patients' and families' ability to function, cope, and understand complex information. For some families, this experience precipitates distrustful relationships with care providers. The resulting impact on quality of care, staff morale, length of stay, and cost may be high.