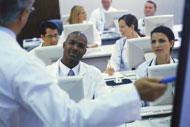 This training package is addressed to lecturers and trainers in the field of paediatrics on how to assist paediatric undergraduate and resident students in developing and consolidating their soft skills for improving the quality of paediatric services.
Communicating with Other Health Care Staff in Pediatrics

5.3. Soft skills to Be Used with other Health Care Staff in Pediatrics
5.3.4. Emotional Learning (Managing Emotions and Negative Interactions, Acknowledging and Solving Conflicts)
Social and emotional competence is the ability to understand, manage, and express the social and emotional aspects of one's life in ways that enable the successful management of life tasks such as learning, forming relationships, solving everyday problems, and adapting to the complex demands of growth and development. Social and emotional learning enhances professionals' capacity to integrate skills, attitudes, and behaviors to deal effectively and ethically with daily tasks and challenges. It is necessary to integrate and promote intrapersonal, interpersonal, and cognitive competences in order to improve the communication between health care staff.

First, it is important to gain an adequate self-awareness, the ability to accurately recognize emotions, thoughts, and values and how they influence behavior. This kind of ability also involve the accurate assessment of one's own strengths and limitations, with a well-grounded sense of confidence, optimism, and a "growth mindset."

Relationship skills are fundamental in order to create an adequate working environment: the ability to establish and maintain healthy and rewarding relationships with diverse individuals and groups and to communicate clearly, listen well, cooperate with others, resist inappropriate social pressure, negotiate conflict constructively, and seek and offer help when needed. In order to increase relationship skills, there must be an adequate social awareness: the ability to take the perspective of and empathize with others, including those from diverse backgrounds and cultures, and to understand social and ethical norms for behavior.
Online Resources