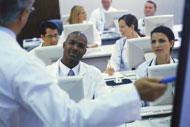 This training package is addressed to lecturers and trainers in the field of paediatrics on how to assist paediatric undergraduate and resident students in developing and consolidating their soft skills for improving the quality of paediatric services.
Communicating with Other Health Care Staff in Pediatrics

5.3. Soft skills to Be Used with other Health Care Staff in Pediatrics
5.3.3. Time Management
The ability to be able to organise oneself is the key to eventually being able to organise the activities of whole teams and to understanding how to make the best use of the time available. Successful time management will ultimately have an impact on service delivery and patient care, which is why it is now considered such a key skill in medicine.

The survey measured time management among pediatricians, health care staff, patients and patients' parents in Romania, Hungary, Italy, Spain and Germany, in terms of time spent with the patient, ease in contacting the doctor when his office is closed, waiting lists, response time to urgent problems and waiting time in the pediatrician's office.

Improving time management skills and developing optimal time management strategies contribute to better healthcare provision. Better communication between health care staff is fundamental in improving time management.

It is suggested the use of a survey designed to identify bottlenecks in the office, using secure messaging through the Electronic Healthcare Service Platform, telehealth and mobile queueing solutions: this can contribute to develop better time management habits and practices.

Also, the first step to improving your personal effectiveness is to develop self awareness. Indeed, this is one of the competences mentioned in the personal qualities section of the framework. Irrespective of this, no doctor can be expected to improve performance without first understanding where their deficiencies lie.
Online Resources
Time managementGreen M., Christie S., Time management, BMJ Careers, 2009
This useful article talks about how to make the most of reducing working hours and tight time.
Time management as a leadership competencyAcademy of Medical Royal Colleges. Medical leadership competency framework: enhancing engagement in medical leadership, 2nd ed. NHS Institute for Innovation and Improvement, May 2009
This publication describes the leadership competences that doctors need to become more actively involved in the planning, delivery and transformation of health services.