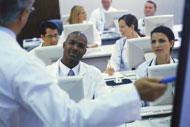 This training package is addressed to lecturers and trainers in the field of paediatrics on how to assist paediatric undergraduate and resident students in developing and consolidating their soft skills for improving the quality of paediatric services.
Communicating with Peers

Introduction
Among the most important soft skills for paediatrics teamwork communication constitutes an essential approach to assure patient's and relative's confort and promote a whole quality of care. In this chapter we will focus on specific competences and professional attitude to empower teamwork communication and promote the inclusion of patients and relatives in clinical decision making processes.