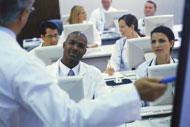 This training package is addressed to lecturers and trainers in the field of paediatrics on how to assist paediatric undergraduate and resident students in developing and consolidating their soft skills for improving the quality of paediatric services.
Communicating with Peers

4.1 Literature Review
4.1.1 Stressors: Emergencies and Work Overload
Daily work in the hospital carries many responsibilities and, therefore, many headaches. Passing a medical consultation, attending to in-patients, responding to different interconsultations between colleagues, teaching, solving family doubts ... all of them are routines that any medical professional has to deal with. In addition to this, there are times when the population does not help with regard to an overuse of emergency services in hospitals for consultations that are not such urgencies. This is a great loss for the professional who cannot cope with such work overload. If you do not manage to orient yourself properly or to organize or prioritize your tasks, you can end up in what is known as "burnout syndrome". This term is used to describe the consequences of severe stress and high ideals in "helping" professions. Doctors and nurses, who sacrifice themselves for others, would often end up being exhausted, listless, and unable to cope. There are no reliable scientific data about how many people have burnout as it is a condition difficult to diagnose. Its symptoms could be recognised by a feeling of exhaustation, alienation from (work-related) activities and reduced performance.
Bibiography
Kurzthaler I, Kemmler G, Fleischhacker W. Burnout-Symptomatik bei KlinikärztInnen. neuropsychiatrie. 2017;31(2):56-62.
Wurm W, Vogel K. Depression-Burnout Overlap in Physicians. PLOS ONE. 2016;11(3):e0149913.