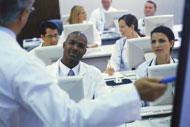 This training package is addressed to lecturers and trainers in the field of paediatrics on how to assist paediatric undergraduate and resident students in developing and consolidating their soft skills for improving the quality of paediatric services.
Communicating in a multilingual environment

8 Case Studies
Case Studies
Case Study 1This case study deals with an interpreting issue.
Problem addressed: Communication problems when the patient and his relatives do not speak the native language of the paediatrician.
Case Study 2This case study is about a critical cultural incident concerning the needs of adolescent girls.
Problem addressed: Handling of critical cultural incidents in intercultural contexts.