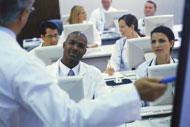 This training package is addressed to lecturers and trainers in the field of paediatrics on how to assist paediatric undergraduate and resident students in developing and consolidating their soft skills for improving the quality of paediatric services.
Communicating with Parents

2.1. Transparency of Information about Treatment and Therapy
2.1.1 Introduction
Health care quality level is largely dependent on safety, timeliness, effectiveness, efficiency, equity and good communication between healthcare worker and patient. To provide professional and patient centered healthcare service, improvement of communication skills is essential. Patient centeredness can also be defined as a biopsychosocial approach to medical treatment. The biopsychosocial model, in contrast to the biomedical model, states that health and diseases are determined by a dynamic interaction between biological, psychological, and social factors and no single illness, patient or condition can be reduced to any one aspect. As opposed to this, the biomedical model attributes illness to biological factors, such as viruses, genes, or somatic abnormalities (Borrell-Carrió et al. 2004).