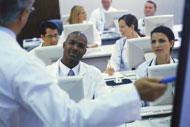 This training package is addressed to lecturers and trainers in the field of paediatrics on how to assist paediatric undergraduate and resident students in developing and consolidating their soft skills for improving the quality of paediatric services.
Communicating with Parents

2.1. Transparency of Information about Treatment and Therapy
2.1.2 Paternalistic, mutualistic, consumerist model
When doctors and patients are interacting, the communication takes place between people in non-equal position usually in an emotionally taxing situation. Therefore, this kind of relationship is one of the most complex of human relationships. According to (Roter 2010) there are four basic forms of doctor-patient relationship: paternalistic, mutualistic, consumerist and default. In paternalistic relationships, doctors are dominant while patients stay passive (assume a more passive role). Consumerism is characterized by an active patient and a doctor whose main obligation is to provide medical service and consider the patients' rights. Mutualism is associated with shared decision making and is often advocated as the best type of relationship (patient recall, patient compliance, patient satisfaction improved when physicians applied more positive talk and focused more on partnership building). Default relationships are characterized by the lack of control on each side and considered as the worst of the four types.

Mutualistic approach can be used as an effective tool to communicate with parents and children as well. A recent literature review (Tates & Meeuwesen 2001) indicates that children aged 7 years and older are more accurate than their parents in providing health data that predicts future health outcomes, although they are worse at providing past medical histories. The reliability of reports by children 8-11 years old is quite good on health questionnaires developed especially for this age group. Children's personal reports provide a viable means of monitoring internal experiences of health and distress during childhood and adolescence, which can enhance understanding about trajectories of health and development of illnesses.
Online Resources