Communication skill influences patient disclosure, treatment adherence and outcome, adaptation to illness, and grief: the transfer of essential information and the responsibility for care of the patient from one health care provider to another is a basic component of communication in health care.
In today's health care system, delivery processes involve numerous interfaces among several health care practitioners with varying levels of educational and occupational training. Effective clinical practice thus involves many instances where critical information must be accurately communicated.
When health care professionals are not communicating effectively each other, patient safety is at risk for several reasons: deficiency of critical information, misinterpretation of information, unclear orders over the telephone, and overlooked changes in status. Lack of communication creates situations where medical errors can occur. On the other hand, effective communication inside health care staff can lead to positive outcomes: improved information flow, more effective interventions, improved safety, enhanced employee morale, increased patient and family satisfaction, and decreased lengths of stay.
Direct communication among health care staff encourages helpful teamwork and promotes continuity and clarity within the patient care team. However, doctors and nurses communicate differently. Nurses are focused on the "big picture" with broad and narrative descriptions of the situation, whereas doctors are focused on bullets of critical information. Good patient care is enhanced when there is mutual respect and clear communication between all health care professionals involved in the patient's care process.
So that good clinical practice, through direct communication, involves communicating clearly, effectively, respectfully and promptly with other health care professionals caring for the patient and acknowledging, respecting the contribution of all other carers involved in the care process. Communicating sufficient information about the patient and the treatment, continuing care of patient is assured and improved especially when there is an understanding of the responsibilities, capacities, constraints and ethical codes of each other's professions.
A large body of literature shows that because of the complexity of medical care, coupled with the inherent limitations of human performance, it is critically important that health care professionals have standardized communication tools and create an environment in which individuals can speak up and express concerns. This literature concurs that when a team needs to communicate complex information, particularly in a short period of time, it is helpful to use structured communication techniques to ensure accuracy.
A technique that seeks to bridge the gap between the different communication styles of nurses and physician is the Situation, Background, Assessment, Recommendation (SBAR) briefing model that is being used successfully to enhance handoff communication. The concept of a handoff is complex and includes communication between the change of shift, communication between care providers about patient care, handoff, records, and information tools to assist in communication between care providers about patient care. The handoff is also a mechanism for transferring information, primary responsibility, and authority from one or a set of caregivers, to oncoming staff.
SBAR consists of standardised prompt questions in four sections to ensure that staff is sharing concise and focused information. Using SBAR prompts staff to formulate information with the right level of detail.
SBAR helps to provide a structure for an interaction that helps both the giver of the information and the receiver of it. It helps the giver by ensuring she/he has formulated her/his thinking before trying to communicate it to someone else.
The receiver knows what to expect and it helps to ensure the giver of information is not interrupted by the receiver with questions that will be answered later in the conversation. SBAR can be used in any setting but can be particularly effective in reducing the barrier to effective, direct communication. It can be used anywhere, including: • inpatient or outpatient, • urgent or non urgent communications, • conversations between clinicians, either in person or over the phone - particularly useful in nurse to doctor communications and also helpful in doctor to doctor communication, • conversations with peers – change of shift report, • communication between different disciplines, • increasing a concern, • when patients move between services or from social care (care homes and into/out of hospital).
In order to achieve continuity of care it is essential that healthcare staff have the knowledge and skills to work collaboratively with others involved in the current or future care of the child and family. This involves effective communication, sharing of relevant information and supporting effective transition between services during admission or discharge from hospital.
In the inpatient setting, healthcare staff can assist in the provision and modelling of useful communication with children and their families but the practice of depending on numerous caregivers to communicate poses a risk of families being exposed to be in conflict with information and opinions, often provoking anxiety and confusion. So that, true interdisciplinary teamwork and collaboration can prevent this complication.
Communication skills such as active listening, paraphrasing, summarising, reflecting and questioning are fundamental to the development of relationships. All these relationships influence the ability to provide high quality care which is synchronized around the needs and wishes of the pediatric patient/ family, in order that they should consent and be actively involved in care decisions resulting in an agreed understanding between all stakeholders.
The health outcomes of children are affected when their caregivers struggle with health literacy; these caregivers are more likely to inappropriately dose medications by using spoons, cups and other nonstandard dosing instruments. Thus, the healthcare provider would use communication techniques that facilitate comprehension, such as teach back, for all patients/families not just those the provider perceives as being challenged with comprehension.
Teach back technique in care provider instruction is an evidence-based action where the healthcare provider first teaches a health-related topic followed by asking the patient/family to teach back, demonstrate or repeat back the information taught, repeating the cycle as necessary until understanding of the topic is accomplished. Teach back puts the burden of effective communication on the provider, by requiring the provider to explain to the patient/family information they need to apply in a manner that the patient/family understand. Patient/family understanding is confirmed when they accurately explain the information back to the provider in their own words.
Teach back is shown to improve communication, comprehension and outcomes: its elements are to assure accurate medication reconciliation at discharge and to arrange follow-up appointments before discharge, documenting the appointment day and time on the after visit summary note; it is an approach for care providers and caregivers to share meaning in the moment so that the family reproduces at home what they learned at the hospital.
The teaching-learning process of family care involves explanation, observation, execution, supervision, collaboration and performance assessment. Teaching based on demonstration and feedback appears to be central to this educational process that mediates learning of procedural care.
During the hospital discharge it is crucial that nurses take on the role of discharge coordinators, involving themselves in this transition process and integrating other team members in a group action, offering families support for daily living and building together the means to facilitate the performance of care with autonomy, safety and quality for their children at their homes.
Checkpoint on best practice – Handoff Communication and SBAR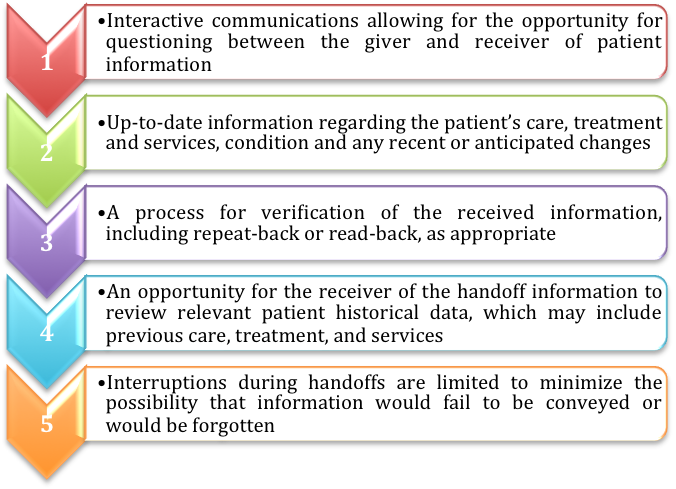 Source: Adapted from Joint Commission, National Patient Safety Goals Hospital Program
Table 1. Joint Commission 2008 Hospital Patient Safety Goals Implementation Expectations for Handoffs
Use clear language and avoid use of abbreviations or terms that can be misinterpreted
Use effective communication techniques. Limit interruptions. Implement and utilize read-backs or check-back techniques.
Standardize reporting shift-to-shift and unit-to-unit.
Assure smooth handoffs between settings
Use technology to enhance communication. Electronic records can support the timely and efficient transmission of patient information.
Table 2. Strategies to Improve Handoff Communication
Situation – What is going on with the patient?
Background – What is the clinical background or context?
Assessment – What do I think the problem is?
Recommendation – What would I do to correct it?
Kaiser Permanente, SBAR (Situation, Background, Assessment, Recommendation) Tool, 2002
Source: Institute for Healthcare Improvement. Guidelines for communicating with physicians using the SBAR process.
http://www.ihi.org/IHI/Topics/PatientSafety/SafetyGeneral/Tools/SBARTechniqueforCommunicationASituationalBriefingModel.htm.
Table 3. SBAR – A technique for communicating critical information that requires immediate attention and action concerning a patient's condition
OFF GOING NURSE (complete pre shift-change activities)
S
Situation

Manage up your team
Involve the patient in shift change
Give a brief update on the chief complaint

B
Background

Discuss any special safety needs (i.e. fall risk, isolation precautions, altered mental status...)
Discuss pertinent history
Treatments, meds, pain control

A
Assessment

Explain this next step
Inform the oncoming nurse of what was assessed
Include any information or tasks you have completed
What will the oncoming nurse need to complete?

R
Recommendation

Review orders and plan of care with oncoming nurse (tests, treatments, medications). Any relevant medications of services needed – support services (Pharmacy, Radiology, Case Management)
Ask the patient if there is anything to add to report

T
Thank

Thank the patient and thank oncoming nurse for participating in report
ONCOMING NURSE
S
Set aside assumptions

Introduce self (acknowledge, introduce, duration of report, explain reason for safe exchange of information, thank)
Check patient identity

B
Be attentive

Use active listening skills
Update communication board

A
Ask questions

Conduct a quick physical assessment and check, and any other drains/tubes. Assess pain using pain scale. Review chart
Ask any questions to clarify

R
Be Responsive

Be responsive to safe needs
Assure patient knows how to call for assistance

T
Thank

Thank the patient and thank the off going nurse for the report
Confirm communication is updated and assure for privacy upon exiting room
Source: Adapted from West Florida Healthcare. West Florida Hospital
Table 4. SBAR - T Format – BEDSIDE SHIFT REPORT
Checkpoint ... on best practice – Techniques of Communication and Teach Back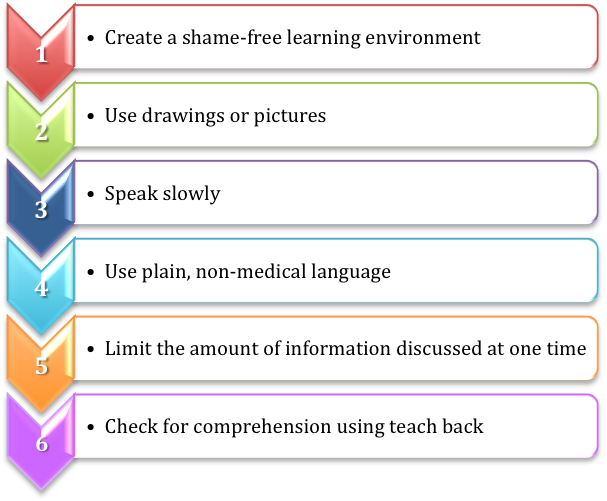 Source: Freely adapted from "Health Literacy and Teach Back for Effective Health Care Communication"
Table 5. Techniques to Improve Communication Skills