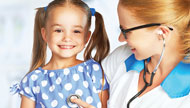 This training package is addressed to students and medical practitioners in paediatrics on how to autonomously learn, develop and consolidate their soft skills for improving the quality of paediatric services.
Communicating with Peers

4.5 – Surpassing Age and Gender Barriers in Communicating with a Colleague Paediatrician
Research on teamwork in health care setting showed professional groups can have different views, perceptions and attitudes influencing the impact of the medical team. Gender has been a traditional argument to justify the roles' difference within the medical teamwork. Male doctors have been traditionally hierarchical dominant; as a consequence the power imbalance characterized nurse-doctor relationship. In the last 40 years the growth of medical team roles due to the socialization of medicine modified the gender-restricted roles of medical team, even than this process didn't changed the discipline-specific tendency to group healthcare professionals. This grouping tendency is determined by different backgrounds, expertise, needs and expectations, and contributes to reduce the inter-professionals interaction (Braithwaite et al; 2016). Despite the plurality of expertise and expectations, literature showed the existence of a difference in the workplace practice between women and men, the slow adoption of gender-based analysis in research showed a difference of practice between women and men, and gender is treated as a determinant of outcomes, rather than a demographic variable. The better outcomes of women doctors are related to the clinical setting, to the experience of medico-legal actions and the recurrence of malpractice claims (Garden & Weller; 2017). In order to reduce discrimination gender at workplace and recognize the essential contribution of women t the medical team we recommend the following soft-skills: 1) build gender equality into the team, supporting women inclusion and share feedback to allow common goals; 2) involve men in policies to fight gender barriers, through better information and an active engagement against discrimination; 3) inclusion, male team members should include female colleagues in their social circle, for that purpose is required a better definition of sexual harassment, is important identify behaviours not acceptable toward women, but at the same time promote positive socialization between man and women through common social events and team member connections; 4) balance between man and women in the teamwork and in decision-making processes; 5) education about gender issues, promote the exchange of perspectives between man and women respect to the existence of gender issues in the teamwork; 6) discussion about gender issues during the routine meetings, this practice consents to create a specific space t workplace to face the challenges of gender based policies.
Practical Applications
Case scenario - 10 The video is a brief presentation about the soft-skills required to improve the nurse-doctor relationship, during the ward everyday life.
The video is in English and subtitles in English are available
Case scenario - 11 This scenario is not related to health care stuff but can be very useful to identify topics characterizing gender-based issues at workplace.
The video is in English and subtitles in English are available
Online Resources