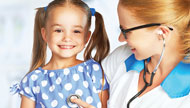 This training package is addressed to students and medical practitioners in paediatrics on how to autonomously learn, develop and consolidate their soft skills for improving the quality of paediatric services.
Communication with Children
Soft-skills for Autonomous Learning Targeting Pediatricians, Residents in Pediatrics, Students
The module Communicating with Children was developed as part of IO3 of Strategic Partnership project SoftisPed – Softskills for Children's Health, by the team from the University of Medicine and Pharmacy of Tirgu Mures, Romania.
It was designed for autonomous learning of softskills and targets pediatricians, residents in pediatrics and students. The most important five soft skills illustrated through practical applications are:
Greeting child patients and introductions (using loving tones, smiling, simple language, in a sitting position
Using simple language and repetition of key terms in communicating with children
Asking questions, teach back and show me, reflection, mirroring, and other communication techniques
Empathy
Building trust.
These softskills are theoretically described and then illustrated through 10 practical applications that take place in the clinical pediatric context. Each subchapter makes reference to online resources that learners can further study.