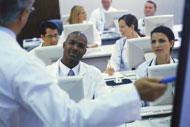 This training package is addressed to lecturers and trainers in the field of paediatrics on how to assist paediatric undergraduate and resident students in developing and consolidating their soft skills for improving the quality of paediatric services.
Communicating with Other Health Care Staff in Pediatrics

5.2. Types of Communication
5.2.2 Vertical - Communication Styles: Concise (doctors) vs Descriptive (Nurses), Collaborating vs Delegating
Communication can be characterized as vertical, horizontal, or diagonal. Vertical communication occurs between hierarchically positioned persons and can involve both downward and upward communication flows.

Nurses' and doctors' communications each exhibit their own distinct features. Collins identifies distinctive features of explanations in nurses' and doctors' consultations with patients. These can be understood by reference to patterns of communication. Nurses' communication is mediated by patients' contributions; doctors' communication gives an overarching direction to the consultation as a whole. While nurses' explanations began from the viewpoint of a patient's responsibility and behaviour, doctors' explanations began from the viewpoint of biomedical intervention. Their consultations lend different opportunities for patients' involvement.

Specification of these features, when considered in the context of a particular consultation activity such as explanations, allows both recognition of the distinct contributions each profession can offer and identification of ways of combining these to maximum effect. This has implications for policy, for practice and for interprofessional education.
Online Resources