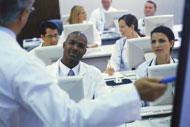 This training package is addressed to lecturers and trainers in the field of paediatrics on how to assist paediatric undergraduate and resident students in developing and consolidating their soft skills for improving the quality of paediatric services.
Communicating with Other Health Care Staff in Pediatrics

5.4. Teaching Soft Skills – Strategies and Methods
5.4.5. Problem-Based Learning
Problem-Based Learning (PBL) is a pedagogical approach and curriculum design methodology often used in higher education. In PBL a key problem is identified and a solution is agreed upon and implemented: learning is driven by challenging, open-ended problems with no one "right" answer. Problems/cases are context specific and students work as self-directed, active investigators and problem-solvers in small collaborative groups (typically of about five students). Teachers adopt the role as facilitators of learning, guiding the learning process and promoting an environment of inquiry.

This teaching method is often used in order to facilitate soft skills learning and it is very helpful in working in teams, since it help students to increase their self-awareness and the ability to evaluate group processes.

PBL may be preferred in health carers' and physicians' education, because rather than having a teacher provide facts and then testing their ability to recall these facts via memorization, PBL attempts to get students to apply knowledge to new situations. People are faced with contextualized problems and are asked to investigate and discover meaningful solutions on difficult situation regarding communication.

Problem-based learning develops critical thinking and improves problem-solving skills, increasing the professionals' motivation to increase their skills in communicating with other health care staff.
Online Resources