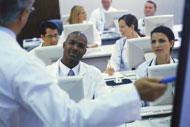 This training package is addressed to lecturers and trainers in the field of paediatrics on how to assist paediatric undergraduate and resident students in developing and consolidating their soft skills for improving the quality of paediatric services.
Communicating with Other Health Care Staff in Pediatrics

5.4. Teaching Soft Skills – Strategies and Methods
5.4.3. Yes/No Scenarios and Role-Plays
Specific teaching on soft skills should be a mandatory part of medical and health care staff education at every institution. Patel et al. (2017) recommend the use of a scenario-based pediatric clinical communication skills program as an educational tool in the education of future pediatric professionals. They believe that the implementation of SBT (Scenario-based teaching) will go a long way to fulfilling the core competencies of doctors and nurses as outlined by the General Medical Council.

Role-playing takes place between two or more people, who act out roles to explore a particular scenario. It's most useful to help you or your team prepare for unfamiliar or difficult situations. In particular, for emotionally difficult conversation, such as resolving a conflict between health care staff in pediatrics. By acting scenarios like these out, you can explore how other people are likely to respond to different approaches; and you can get a feel for approaches that are likely to work, and for those that might be counter-productive. You can also get a sense of what other people are likely to be thinking and feeling in the situation. Also, by preparing for a situation using role-play, you build up experience and self-confidence with handling the situation in real life, and you can develop quick and instinctively correct reactions to situations. This means that you'll react effectively as situations evolve, rather than making mistakes or becoming overwhelmed by events.

A role-playing session is set up in five steps: identify the situation, add details, assign roles, act out the scenario, discuss what you have learned.
Online Resources
Scenario-based program in undergraduate medical educationPatel, K., & El Tokhy, O. (2017). Scenario-based teaching in undergraduate medical education., Advances in Medical Education and Practice, 8, 9–10
Online article showing the reasons to recommend the use of a scenario-based pediatric clinical communication skills program as an educational tool in undergraduate medical education.
Role PlayingOnline article describing the principles of Role Playing.