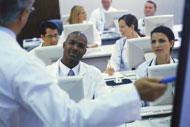 This training package is addressed to lecturers and trainers in the field of paediatrics on how to assist paediatric undergraduate and resident students in developing and consolidating their soft skills for improving the quality of paediatric services.
Communicating with Other Health Care Staff in Pediatrics

5.4. Teaching Soft Skills – Strategies and Methods
There are several methods of teaching softs skills in communicating with other health care staff in pediatrics. This chapter presents how soft skills can be taught and learned using: standardized patients/simulations, case-based learning, yes/no scenarios and role-plays, team-based learning, problem-based learning, checklist.