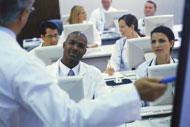 This training package is addressed to lecturers and trainers in the field of paediatrics on how to assist paediatric undergraduate and resident students in developing and consolidating their soft skills for improving the quality of paediatric services.
Communicating with Other Health Care Staff in Pediatrics

5.3. Soft skills to Be Used with other Health Care Staff in Pediatrics
5.3.6. Cooperation and Collaboration (Empowerment Reassurance, Encouragement, Responsibility for Problem-Solving)
Collaboration in health care is defined as health care professionals assuming complementary roles and cooperatively working together, sharing responsibility for problem-solving and making decisions to formulate and carry out plans for patient care. Collaboration between physicians, nurses, and other health care professionals increases team members' awareness of each others' type of knowledge and skills, leading to continued improvement in decision making.

In health care it is generally believed that collaborative efforts yield better health services and outcomes for the populations that are served. Littlechild & Smith (2013) state that collaboration leads to improved efficiency, improved skills mix, greater levels of responsiveness, more holistic services, innovation and creativity, and a more user-centered practice. Collaborative practice in health-care occurs when multiple health workers from different professional backgrounds provide comprehensive services by working with patients, their families, careers and communities to deliver the highest quality of care across settings.
Online Resources
Collaboration towards decision making improvement
Handbooks presenting an examination of the state of the science behind quality and safety concepts, including cooperation and collaboration, showing the importance developing the evidence base to address critical knowledge gaps.Hughes, R. (Ed.). (2008). Patient safety and quality: An evidence-based handbook for nurses (Vol. 3). Rockville, MD: Agency for Healthcare Research and Quality
This editorial provides an overview of interprofessional collaboration in the areas of clinical practice, education, research and discusses barriers to collaboration, suggesting potential means to overcome them.Littlechild B, Smith R., A Handbook for Interprofessional Practice in the Human Services: Learning to Work Together, New York, NY: Routledge; 2013