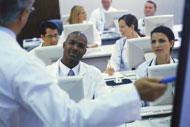 This training package is addressed to lecturers and trainers in the field of paediatrics on how to assist paediatric undergraduate and resident students in developing and consolidating their soft skills for improving the quality of paediatric services.
Communicating with Other Health Care Staff in Pediatrics

5.3. Soft skills to Be Used with other Health Care Staff in Pediatrics
Communication problems among health professionals are common. Lack of communication creates situations where medical errors can occur. Consultation skills are important and can be taught and learned. Howells et al. (2006) strongly recommend that "clinicians enthusiastic about teaching consultation skills attend a relevant staff development programme, which may be available at a local medical school, university or deanery, or nationally".

This survey identifies the soft skills that are necessary to communicate with other health care staff in pediatrics. The organization of the hospital environment and the time management seem to be the highest learning needs for Romania, Hungary, Italy. The communication section of the questionnaire asked health care staff, doctors, patients and relatives about: support to patients, respect from patients, support from medical team, appointment for checkups, availability during office hourse, quality of patients like, follow up information. In order to guarantee effective communication between healthcarers and patients, however, an adequate communication between healthcarers is fundamental.

The survey shows that many communication problems are related to the low consultation beween doctors, hich is a consequence of them working in different and distant unities ad districts. This can seriously affect healthcarers' ability to explain the child's illness and treatment, reducing mutual trust and respect.