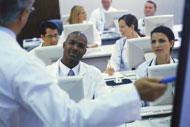 This training package is addressed to lecturers and trainers in the field of paediatrics on how to assist paediatric undergraduate and resident students in developing and consolidating their soft skills for improving the quality of paediatric services.
Communicating with Other Health Care Staff in Pediatrics

Introduction
There are several interfaces and handoffs during the hospitalization between health care staff and technicians in pediatrics. Since they also have different levels of education and occupational training, it is thought that good communication will lead to improved information flow and to increased patient and family satisfaction with care.

This chapter has the intent to present the most important aspects involved in communicating with other health care staff in paediatrics. These are: types of communication (channels, styles, barriers), soft skills and the way of teaching and learning soft skills.