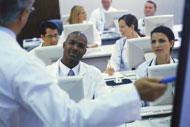 This training package is addressed to lecturers and trainers in the field of paediatrics on how to assist paediatric undergraduate and resident students in developing and consolidating their soft skills for improving the quality of paediatric services.
Communicating with Peers

4.2 Teamwork communication in paediatrics
4.2.3 Horizontal Communication: Collaborating vs Delegating
Horizontal communication is the transmission of information between people, divisions, departments or units within the same level of organizational hierarchy. It is sinonimous of "lateral communication". The opposite is vertical communication, which is the transmission of information between different levels of the organizational hierarchy.

It has some advantages such as the decrease in misunderstanding between people working on the same project, making it easier to get efficiency and productivity. It allows employees on lower levels to coordinate directly with each other in the very difficult work of making decisions. Thus, horizontal communication facilitates teamwork in a project with people participating at different levels. It increases job satisfaction and motivation. On the other hand, horizontal communication has some disadvantages. It can be difficult maintaining control whereas horizontal communication is increased. This is, in part, because management can get too much control and power if information flow is controlled. Horizontal communication can also create conflict between colleagues exposed to each other through this process. It is more time-consuming because it needs a double-checking decision making process or to confirm information received. Finally, it may cause a lack of discipline if strict procedural communication rules are not imposed or followed, allowing employees to spend as long as they want to. In relation to the latter, it can also become a problem if collaborating and delegating differences are not well established at the beginning. If there is no any pre-agreement, people tend to take the easy way and just let the companies work for them (dellegating) when this is not obviously the purpose. The aim is that everybody contributes to the best of their abilities, giving ideas and expressing their own opinion so that everything flows properly (collaborating). In the hospital daily life, there are many examples of horizontal communication. One of the most frequent is the consultation between different specialties to discuss about a patient and the best approach or care givings to help him/her get better. They have to give ideas, expose their experience in managing the sort of patients for what they are consulted. It forces different specialists to agree and collaborate to give the best for their patients3.
Online Resources