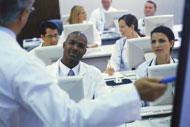 This training package is addressed to lecturers and trainers in the field of paediatrics on how to assist paediatric undergraduate and resident students in developing and consolidating their soft skills for improving the quality of paediatric services.
Communicating in a multilingual environment

2.1 What is culture?
Gomos (2018) defines culture as a "spiritual, material and non- material aspect of human life which gives people sense of direction, a unique and distinct position within a particular society as well as differentiate them or mark a boundary between them other social groups and societies." The term culture thus encompasses a person's values, behavior, customs, language, race, ethnicity, gender, sexual orientation, religious beliefs, socioeconomic status, and other distinct attributes of population groups.
Online Resources