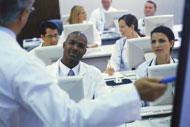 This training package is addressed to lecturers and trainers in the field of paediatrics on how to assist paediatric undergraduate and resident students in developing and consolidating their soft skills for improving the quality of paediatric services.
Communication with Children

1.4 Teaching soft-skills
Teaching soft skills does not necessarily involve special methods, rather teaching/learning methods and strategies involved in general doctor-patient communication can be applied.
Team-based learning (TBL): Team-based learning is a learner-centred, instructor-directed strategy that incorporates class-based teamwork and assessment to enhance active learning and critical thinking.
Flipped Classroom (FC): The 'Flipped Classroom' refers to an approach to teaching where the traditional class-time and self-study activities are reversed or 'flipped'.
Role play (RP): It is important to recognise that students learn in different ways and that role-play may be a preferred method for students who learn through concrete experiences.
Yes/No scenarios: in Yes/No scenarios students are offered both the good and the bad solution to a problem, approach to an interview, etc. Students can arrive at the good solution either inductively or deductively, themselves, depending on the amount of autonomy/control they work with or they can be given only the bad scenario and they have to discover the good one.
Problem-Based Learning (PBL): In this approach, students learn in small groups supported by a tutor. They initially explore a predetermined problem.
Reflective Learning (RL): Reflective Learning is an important model of learning that is based on the principle of gaining knowledge and insight from the learner's own experience.
Simulations and Models: these are tools for assessment of clinical performance in an environment closely resembling reality and imitating real clinical problems, to rate the examinees' performance on clinical problems that are difficult or even impossible to evaluate effectively without harming a real patient.
Simulated Patient (SP): Simulated patients are healthy persons who have been trained to reliably reproduce the history and/or physical findings of typical clinical cases. Sometimes actors are used to accomplish this goal but more often, health care providers are used. The use of an SP is designed to assess students' clinical skills while making the examination as objective as possible.
Online Resources