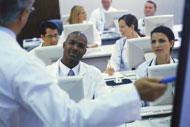 This training package is addressed to lecturers and trainers in the field of paediatrics on how to assist paediatric undergraduate and resident students in developing and consolidating their soft skills for improving the quality of paediatric services.
Communication with Children

1.2. Communication with children
1.2.2. Ludic Activities/Games
One of the most important forms of a child's manifestation is the game. Under the influence of games, the entire psychical activity is formed, developed and restructured. Children are inspired to be more attentive and to participate in the story or other mediums. Participatory communication, like participatory education, is more child-friendly, providing children and adolescents the opportunity to be engaged cognitively, physically and emotionally, especially compared to didactic forms of communication. Interaction can also be improved with traditional media such as books, plays, puppetry, songs, radio and television.

There are several reasons that determine children's fear of doctors, nurses and hospital settings in general, and these are the anticipation of painful events, an unfriendly or unknown environment, the unfamiliar faces, the lack of understanding of the medical act and, last but not the least, "the doctor/shot " threat that is frequently used by the parents when children are naughty. The unknown can cause fear and anxiety in both children and their parents. Because play is a natural daily form of activity, children do not associate it with stress and fear. Therefore, by involving children in games and role-plays, their concerns, worries and fears can be bypassed, as children are indirectly placed in a medical situation where they are not afraid to ask questions and even take part in decision making about their own condition and suffering. The use of toys and dolls is a stress-reducing communication strategy through which focus is drawn to the message rather than the fear and anxiety the child is experiencing.

In addition to paying attention to the main or intended messages, children learn from incidental and unintended elements of a game (for example, whether the characters behave according to traditional gender-prescribed roles, how caregivers visually react to children's fears or mistakes, etc.). It is, therefore, important to pay careful attention to all aspects of a message, the obvious and the subliminal.
Online Tutorials specifically designed for the project
The game - The toy is sickTutorial in English illustrating the use of ludic activities, games and dolls in communicating with children
The game of dollsTutorial in English, both illustrating the use of ludic activities, games and dolls in communicating with children.
Online Resources