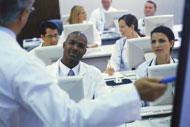 This training package is addressed to lecturers and trainers in the field of paediatrics on how to assist paediatric undergraduate and resident students in developing and consolidating their soft skills for improving the quality of paediatric services.
Communication with Children

1.1. Organization of the hospital environment in a pediatric unit
Pediatrics Clinic 1 is a department in the Emergency Clinical County Hospital of Tirgu Mures and it owns 40 beds. The clinic is organized on different compartments, such as gastroenterology, intensive care, rheumatology, hematology and oncology, nephrology, but also general pediatrics.

Wards
Every ward is equipped with at least a bed for the mother and child, also a bathroom and a bedside table. There are also wards with multiple beds. The patients' admission depends on the pathology due to the fact that every compartment from our clinic has at least one ward. In many pediatric clinics, wards can be specially monitored and for a more pleaseant atmosphere, walls can be decorated with painting of different nature themes or fairy tale scenes; parents can have a private coach for sleeping and a curtain that they can draw for ensuring privacy.

Equipment, TV, toys
The children admitted to Pediatrics Clinic 1 benefit from a playroom where they can find multiple toys, a TV, and different equipment for physiotherapy and sports. There they can spend a better quality time and forget about their pain for at least a couple of hours.
In other pediatric clinics, conveniences may include a wide range of facilities that are offered, such as free wi-fi, laundry, traveling-on-wheels store, games: Medbuddies (= a program that pairs a volunteer medical or nursing student with an inpatient), activity centers (= procedure-free zones, where celebrations, arts, crafts, music, games are matched to the child's developmental needs and foster family and social bonding), bedside music, waiting lounges - meant for family members to relax, use computers or spend a quiet moment; funny special wagons for children's hospital transport etc. all these amenities offering a compassionate-tailored approach to healthcare
Some Pediatric Clinics may use hydrotherapy or occupational therapy which engage children who are not bedridden, in activities that develop motor, behavioural and thinking skills, which are likely to improve the quality of the sick child's daily activities. Certified music and art therapists can also be employed for the kids with long hospitalization periods in order to help them express and understand their feelings and fears. School activities can also be arranged for school children.

Playground and stress relievers, comfort kit
"You can discover more about a person in an hour of play than in a year of conversation" (Plato)

Play can be used in the pediatric consultation room as it reduces fear and anxiety, increases joy and improves openness. It is a form of communication that exploits nonverbal behaviour. Contact can thus be initiated and trust can be built with the pediatric patient.

The playground from Pediatrics Clinic 1 is formed from the Playroom and the Magical Garden which is a real stress reliever because there are multiple flowers, trees and benches where the children can relax together with their mothers or even the medical staff. This type of environment promotes play and therefore relief of stress and open communication. It allows kids to be kids even when they are away from home, sick, and dealing with pain and suffering.
Online Tutorials specifically designed for the project
Online Resources
Riley Hospital TourA presentation of a pediatric hospital by two ex-patients. The hospital, although opened in 1924 was transformed into a modern childcare place with special amenities that are likely to optimize the sick children's stay: wide open space, walls with colorful tile and art work, red wagons for children's move around.
Video Tour of Benjamin Russel Hospital for ChildrenA video tour of one of the most modern children's hospital featuring private rooms and bathrooms for children and neonates with modern patient education systems, break areas, patient activity rooms, child-friendly family waiting areas on each floor, home-like amenities, cafeteria, vending areas, chapel.