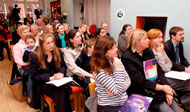 This section is meant to facilitate the sharing of information among partners as far as the dissemination events carried out are concerned.

A description of the event, the number of people participating and the evaluation of the event are available for each dissemination event.
Back to the Dissemination List
click here for the printable version

Partners' Institution:
University of Tirgu Mures

Name of the person involved in the event:
Anisoara Pop, Oana Marginean

Date of the event:
23 November 2017 - 25 November 2017

Type of Dissemination event:
Conference or Fair

Target group:
Researchers
Experts
Universities

Number of people reached by event:
150

Held in:
Tirgu Mures (Romania)

Description of Dissemination Event:
Presentation of project results achieved so far entitled: Optimizing the softskills in pediatric education and practice during The Days of the Institute of Emergency for Cardiovascular Diseases and Transplantation - Professional development course: Updates in the Diagnosis and Therapy of Cardiovascular Diseases in Adults and Children - 23-35.11.2017

Outcomes and Results:
Participants in the event included over 150 surgeons, cardiologists, heathcare staff, residents, students from the Institute of Cardiovascular Diseases and Transplantation whose work also involve teaching and medical care of pediatric patiens. Enclosed programme of the CPD on November 23rd, Time 15:45-16:00.

Supporting Documents: