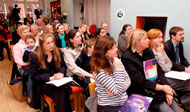 This section is meant to facilitate the sharing of information among partners as far as the dissemination events carried out are concerned.

A description of the event, the number of people participating and the evaluation of the event are available for each dissemination event.
Back to the Dissemination List
click here for the printable version

Partners' Institution:
University of Tirgu Mures

Name of the person involved in the event:
Assoc.Prof. Anisoara Pop

Date of the event:
03 October 2017

Type of Dissemination event:
Practical workshop - applying softskills in a simulated context

Target group:
Students

Number of people reached by event:
25

Held in:
Tirgu Mures (Romania)

Description of Dissemination Event:
Practical workshop during the English classes - after a brief introduction and presentation of the results of SoftisPed research on the importance of softskills for the pediatric field, students will perform a short communication activity in which they will have to apply certain softskills: - adapting the language complexity to the patient (use of simple language rather than medical jargon) - use of validation techniques for checking understanding of transmitted information: teach-back, repetition of key aspects, - adapting the tone of voice, volume and rhythm of voice to the patient.

Outcomes and Results:
At least 25 students will be familiar with results obtained by the project as far as the most important softskills for medical communication are. After the practical application, students will be more aware and eager to learn more and apply them in their future practice with patients.

Supporting Documents: