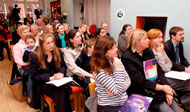 This section is meant to facilitate the sharing of information among partners as far as the dissemination events carried out are concerned.

A description of the event, the number of people participating and the evaluation of the event are available for each dissemination event.
Back to the Dissemination List
click here for the printable version

Partners' Institution:
University of Tirgu Mures

Name of the person involved in the event:
Oana Marginean, Anisoara Pop, Azamfirei Leonard, Simona Muresan, Lorena Melit, Nicoleta Suciu

Date of the event:
13 September 2018 - 13 September 2018

Type of Dissemination event:
Article on website

Target group:
General Public
Researchers
Students
Teachers
Experts
Universities

Number of people reached by event:
2000

Held in:
Tirgu Mures (Romania)

Description of Dissemination Event:
Article announcing the final SoftisPed conference and describing the project, partners and project results.

Outcomes and Results:
University students, academics, lecturers and participants in the final SoftisPed conference are informed about all the project intellectual outputs.

https://www.umftgm.ro/universitate/media/evenimente-manifestari-stiintifice/evenimente-detalii.html?tx_news_pi1%5Bnews%5D=962&tx_news_pi1%5Bday%5D=12&tx_news_pi1%5Bmonth%5D=9&tx_news_pi1%5Byear%5D=2018&cHash=e3630a7cb0e0fbd86cfb5251d2beac83

Supporting Documents: