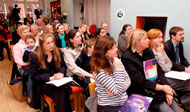 This section is meant to facilitate the sharing of information among partners as far as the dissemination events carried out are concerned.

A description of the event, the number of people participating and the evaluation of the event are available for each dissemination event.
Back to the Dissemination List
click here for the printable version

Partners' Institution:
University of Tirgu Mures

Name of the person involved in the event:
Anisoara Pop

Date of the event:
03 July 2018 - 03 July 2018

Type of Dissemination event:
Chapter in book

Target group:
Students
Experts
Universities

Held in:
Tirgu Mures (Romania)

Description of Dissemination Event:
A chapter entitled "Adopting doctor-patient interactional strategies to the medical English context" was published in book with ISBN. The chapter presents how strategies developed in the Softis-Ped Project were adopted to teach Medical students.

Outcomes and Results:
Publication of the chapter "Adopting doctor-patient interactional strategies to the Medical English context" in Book: UNIFORMITY AND DIVERSITY IN TEACHING MEDICAL SCIENCES TODAY Ed. Gr.T.Popa, UMF Iasi, ISBN 978-606-544-468-3, pag. 304-313, author Anisoara Pop

Supporting Documents: