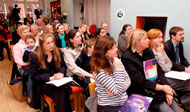 This section is meant to facilitate the sharing of information among partners as far as the dissemination events carried out are concerned.

A description of the event, the number of people participating and the evaluation of the event are available for each dissemination event.
Back to the Dissemination List
click here for the printable version

Partners' Institution:
University of Munich

Name of the person involved in the event:
Johanna Huber

Date of the event:
18 April 2018 - 21 April 2018

Type of Dissemination event:
Training Seminar

Target group:
Researchers
Teachers
Experts
Universities

Number of people reached by event:
30

Held in:
Fraueninsel am Chiemsee (Germany)

Description of Dissemination Event:
INSEL is a training Seminar, which is organised from the Working Group "Faculty Development" of the Institute for medical education. Objectievs of the Seminar: To create a positive teaching culture at the Faculty, to connect the teachers among each other, to implement new theaching and learning formats. Johanna Huber took part to the Seminar and informed the audience about the project SoftisPED and the activities, that the SoftisPED-team has already carried out.

Outcomes and Results:
More peolpe are informed about the project

Supporting Documents: