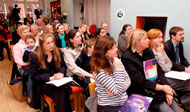 This section is meant to facilitate the sharing of information among partners as far as the dissemination events carried out are concerned.

A description of the event, the number of people participating and the evaluation of the event are available for each dissemination event.
Back to the Dissemination List
click here for the printable version

Partners' Institution:
Azienda Sanitaria Locale TO3

Name of the person involved in the event:
Lucia Pagana

Date of the event:
23 March 2018 - 23 March 2018

Type of Dissemination event:
Training Seminar

Target group:
Students
Experts
Universities

Number of people reached by event:
15

Held in:
Orbassano (Italy)

Description of Dissemination Event:
Professor Lucia Pagana describe Softis-Ped contents and output at the Master I Level on Autism (Master Universitario di primo livello in Autismi: percorsi diagnosticoterapeutici e strategie di intervento) organized by San Luigi Medicine University. The course involve 15 professionists (physicians, psychologists, educators, psychiatric rehab).

Outcomes and Results:
Improvement of the knowledge and the competences, discussing case studies and materials.

Supporting Documents: