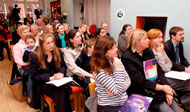 This section is meant to facilitate the sharing of information among partners as far as the dissemination events carried out are concerned.

A description of the event, the number of people participating and the evaluation of the event are available for each dissemination event.
Back to the Dissemination List
click here for the printable version

Partners' Institution:
University of Tirgu Mures

Name of the person involved in the event:
Anisoara Pop

Date of the event:
05 March 2018

Type of Dissemination event:
One-to-one discussion

Target group:
Public Bodies
Experts

Number of people reached by event:
1

Held in:
Tirgu Mures (Romania)

Description of Dissemination Event:
The project objectives and results so far were presented to the Manager of the Institute of Cardiovascular Diseases of Transplantation from Tirgu Mures, Romania, Prof. Klara Branzaniuc in a personal discussion. As a result of this discussion, full support was obtained and interest was manifested and consequently, a new exploitation link was obtained. http://ibcvt.ro/pagina/parteneri

Outcomes and Results:
A new exploitation link was obtained from a public health unit: emergency university hospital, full support and promotion of the project results.

Supporting Documents: