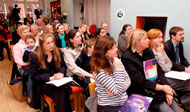 This section is meant to facilitate the sharing of information among partners as far as the dissemination events carried out are concerned.

A description of the event, the number of people participating and the evaluation of the event are available for each dissemination event.
Back to the Dissemination List
click here for the printable version

Partners' Institution:
University of Tirgu Mures

Name of the person involved in the event:
Anisoara Pop

Date of the event:
23 February 2018 - 23 February 2018

Type of Dissemination event:
Informative workshop

Target group:
Students

Number of people reached by event:
14

Held in:
Tirgu Mures (Romania)

Description of Dissemination Event:
Promoting SoftisPed to Medical Students - Workshop of presentation to students at the beginning of the second semester. A number of 14 students enrolled in the Dental Medicine Programme of the University of Medicine and Pharmacy of Tirgu Mures were introduced to the importance of soft skills for the pediatric field. They were guirde to the project portal and to the project FB page and avised to follow the updates especially the results of IO3 which will help them autonomously learn the communication skills that will help them deal more effectively with pediatric patients in their future profession.

Outcomes and Results:
A number of 14 students visited the project portal and the FB page and Liked it.

Supporting Documents: