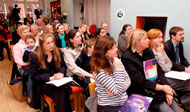 This section is meant to facilitate the sharing of information among partners as far as the dissemination events carried out are concerned.

A description of the event, the number of people participating and the evaluation of the event are available for each dissemination event.
Back to the Dissemination List
click here for the printable version

Partners' Institution:
University of Munich

Name of the person involved in the event:
Johanna Huber, Concetta Perdichizzi, Holger Lenz, Fabian Jacobs and all the collegues of the Institute for Medical Education

Date of the event:
15 January 2018 - 15 January 2018

Type of Dissemination event:
National Meeting

Target group:
Researchers
Teachers
Experts

Number of people reached by event:
35

Held in:
Munich (Germany)

Description of Dissemination Event:
The SoftisPED-Team of the Institute for Medical Education showed with a Powerpoint-Presentation the milestones of the Module "Communicating in a multicultural Environment" (IO 2) to the collegues and became feedback.

Outcomes and Results:
The SoftisPED-Team became good feedback to work on the Module "Communicating in a multicultural Environment" and can develope the content

Supporting Documents: