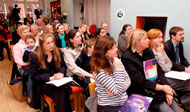 This section is meant to facilitate the sharing of information among partners as far as the dissemination events carried out are concerned.

A description of the event, the number of people participating and the evaluation of the event are available for each dissemination event.
Back to the Dissemination List
click here for the printable version

Partners' Institution:
University of Tirgu Mures

Name of the person involved in the event:
Prof. Oana Marginean, PhD

Date of the event:
09 October 2017 - 09 October 2017

Type of Dissemination event:
workshop with parents

Target group:
General Public

Number of people reached by event:
20

Held in:
Tirgu Mures (Romania)

Description of Dissemination Event:
The dissemination workshop was carried out with parents and relatives of sick children hospitalized in the Pediatric Clinic 1. Parents were informed about the project objectives and results so far and were made aware of the activties that are meant to improve and optimize the communication with sick children. They were informed about the project portal and the Facebook page, many parents being interested to follow the development of the project.

Outcomes and Results:
Twenty parents/relatives of hospitalized pediatric patients were informed about the project activities and results obtained so far. They decided to follow the project portal and the FB page.

Supporting Documents: