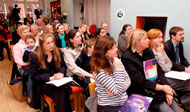 This section is meant to facilitate the sharing of information among partners as far as the dissemination events carried out are concerned.

A description of the event, the number of people participating and the evaluation of the event are available for each dissemination event.
Back to the Dissemination List
click here for the printable version

Partners' Institution:
University of Tirgu Mures

Name of the person involved in the event:
Anisoara Pop, Oana Marginean

Date of the event:
25 December 2016 - 15 April 2017

Type of Dissemination event:
Informative Mailing

Target group:
Researchers
Universities

Number of people reached by event:
25

Held in:
Tirgu Mures (Romania)

Description of Dissemination Event:
Medical Universities and Psychology/Teacher Training departments were sent informative emails promoting SoftisPed in a desire to involve them either as associated partners or as exploitation links that are going to support the project, disseminate project results and exploit them in the future.

Outcomes and Results:
So far there are 4 Associated Partners and one exploitation link: Al I. Cuza University of Iasi, EuroEd Foundation of Iasi, Iuliu Hatieganu University of Medicine and Pharmacy of Cluj, Dimitrie Cantemir University of Tirgu Mures - Teacher Training Department; National Society of Pediatrics, Bucharest.

Supporting Documents: