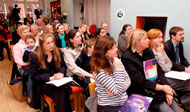 This section is meant to facilitate the sharing of information among partners as far as the dissemination events carried out are concerned.

A description of the event, the number of people participating and the evaluation of the event are available for each dissemination event.
Back to the Dissemination List
click here for the printable version

Partners' Institution:
University of Tirgu Mures

Name of the person involved in the event:
Prof. Oana Marginean, Ph/d

Date of the event:
16 March 2017

Type of Dissemination event:
Dissemination with a group of international students

Target group:
Students

Number of people reached by event:
25

Held in:
Tirgu Mures (Romania)

Description of Dissemination Event:
The dissemination included presentation of the project, its objectives and expected results. The group of international students are studying Pediatrics in the English programme of the University of Medicine and Pharmacy of Tirgu Mures and they were involved in a discussion about softskills importance for the field of pediatrics. They were invited to Follow the Project Facebook page in order to keep updated on the project development.

Outcomes and Results:
Students became more aware abou the importance of the softskills for the field of medicine in general and for the field of pediatrics in particular and were eager to get involved in any volunteer activities that might be designed for improvement of pediatric health care.

Supporting Documents: